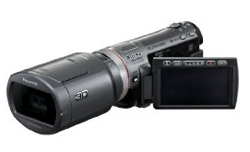 Panasonic HDC-SDT750
Camcorder Info has put out a hands-on review of the worlds first consumer 3D camcorder. The Panasonic camcorder is called Panasonic HDC-SDT750 and comes with a 3D conversion lens that lets you, you guessed it, record 3D movies.
Some key features for the Panasonic HDC-SDT750:
-Fulls HD 1080/60p Progressive Movie Recording
-12x optical zoom lens (35-420mm)
-3D conversion lens
-Optical image stabilization
-Uses SD, SDHC and SDXC memory cards
Camcorder Info ends up giving the Panasonic HDC-SDT750 a mixed review, but they do not have a final result until they get the camcorder into their labs for proper testing. The website thinks that consumers will find it a bit challenging to record in 3D as it requires some adjustments, but as a 2D camcorder the SDT750 is excellent as it based on the top-notch HD camcorder called Panasonic HDC-TM700.
Read the full hands-on review of the Panasonic HDC-SDT750 3D camcorder here.