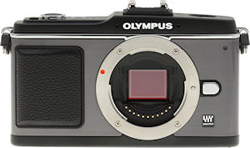 Olympus PEN E-P2
CNET UK has reviewed the Olympus PEN E-P2 micro four thirds digital camera. This is the second camera from Olympus for this format. As I am thinking about investing into the micro four thirds format I find this review very interesting.
Some key features for the Olympus PEN E-P2:
-12 megapixel image sensor
-3 fps
-3″ LCD screen
-8 art filters
-ISO sensitivity from 100-6400
-External electronic viewfinder
-HD movie mode 30fps 1280x720p
-AF-tracking
7.7 out of 10 possible points is the overall score that CNET UK gives the Olympus PEN E-P2. The reviewer really likes the design of the camera, that you get manual controls in movie mode and the electronic viewfinder have high quality. What the reviewer does not like is quirky controls and that the camera is quite expensive. Overall it seems like a very good camera that is able to take excellent pictures, but the Panasonic GF1 is a strong competitor to the E-P2. I have yet to decide what camera I should get for myself.
Read the full review of the Olympus PEN E-P2 micro four thirds camera here.