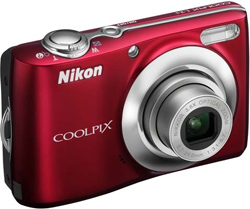 Nikon Coolpix L24
Nikon has announced a new budget camera called Nikon Coolpix L24 that is targeted at entry level photographers. The L24 will have 14 megapixels, a 3.6x optical zoom lens (37mm wide-angle, 134mm telephoto), 3″ LCD screen, able to use ISO 1600 and Easy Auto Mode.
The Nikon Coolpix L24 will be launched in February 2011, cost about $120 and be available in red, black and silver.

Press release:
Nikon's Newest Coolpix Digital Cameras Are The Easy Way To Amazing Images, Preserving Memories, Capturing HD Video Or Sharing Photos With Friends And Family
Whether Shooting, Sharing, or as a Stylish Accessory, There is a Nikon COOLPIX for Every Occasion
MELVILLE, NY (Feb. 8, 2011) –Today, imaging leader Nikon continues to steer innovation to create models as diverse as the needs of users by announcing four new COOLPIX compact digital cameras. Whether it's a weekend excursion with the COOLPIX S6100, posting photos and videos on social networks with the COOLPIX S3100 or S4100, or casually shooting life's events with the COOLPIX L24, Nikon provides an enhanced user-experience with astounding imaging quality and point and shoot simplicity.
"The latest Nikon COOLPIX cameras reflect a shift in digital photography where more and more types of consumers are sharing social content at a rapid pace," said Bo Kajiwara, director of marketing, Nikon Inc. "With new, easy-to-use features such as HD video capability and mid-range zoom shooting capabilities, these COOLPIX cameras inspire consumers to shoot, record and share, while also serving as an expression of personal style."
Great Photos and Video Made Easy with COOLPIX Technology
A hallmark of the COOLPIX brand, Nikon inspires fashion with its compact cameras in vibrant colors to match any personal style and budget. The new COOLPIX S6100, COOLPIX S3100, COOLPIX S4100, and COOLPIX L24 incorporate Nikon's world-class NIKKOR lenses, delivering accurate detail and brilliant color, as well as Nikon's EXPEED C2™ digital image processing engine, to help ensure high-quality pictures with stunning color and sharpness. Additionally, all four COOLPIX cameras include Scene Auto Selector or Easy Auto mode, which automatically recognizes the shooting situation and adjusts camera settings accordingly for great pictures.
To capture flattering portraits, the Smart Portrait System incorporates a series of automatic functions including In-Camera Red-Eye Fix tm, Face-Priority AF, Face Priority AE, Smile Mode, Blink Warning and Skin Softening to flatter even the most camera-shy subject. The new COOLPIX S6100, COOLPIX S3100 and COOLPIX S4100 feature a new Pet Portrait mode that enables automatic recognition of users' dog or cat by detecting the pet's face.
COOLPIX S6100: Power and Performance in a Pocketable Package
Whether a user is a fashionista, foodie or fan of fun in the sun, the Nikon COOLPIX S6100 continues the Nikon commitment to stylish performance by offering weekend warriors and photographic trendsetters the versatility of a 7x optical zoom in a compact body. The COOLPIX S6100 features the highest resolution ever seen in a COOLPIX camera, 16-megapixels, allowing users to zoom and crop into their images and capture even the most minute details. Paired with a 7x wide-angle optical Zoom-NIKKOR ED glass lens, the S6100 personifies the user who needs a multi-role camera for the ultimate in versatility.
The COOLPIX S6100 also features an enhanced touch-screen interface that utilizes tabs to open up screen space, making it easier than ever to capture exotic architecture from afar or a beautiful coastal sunset away from home. Users can share or compose images on the 3-inch high resolution (460,000-dot)Touch screen, and take in the scenery or the people and places with confidence.
COOLPIX S4100 and S3100: Shooting to Sharing the Simple Way
The Nikon COOLPIX S4100 and S3100 are two stylish compacts that scream for self expression through a trendy exterior design and user-friendly operation. The Nikon COOLPIX S4100 features an intuitive touch screen interface for a user-friendly seamless operation that makes it easy to compose and share images. The S4100 's bright 3-inch high resolution (460,000-dot)Touch screen is perfect for showcasing images and HD video. Users can later upload their photos online to Nikon's myPicturetown R photo hosting service or other social media websites via computer.
Both the COOLPIX S4100 and S3100 are sleek and colorful, compact cameras that feature 14 megapixel resolution with a 5x wide-angle Zoom NIKKOR glass lens. These trendy COOLPIX cameras come wrapped in a compact, go-anywhere package and are perfect tools for young users to generate content. For those seeking stylish portability, the super slim S3100 saves on space with a crisp 2.7-inch LCD screen and complements any style with seven available colors.
COOLPIX L24 Digital Camera is Compact and Easy To Use at an Affordable Price
The COOLPIX L24 features premium styling for the Lifestyle-series class of COOLPIX cameras. The new COOLPIX L24 continues to empower users with more amazing features such as 14 megapixel resolution and 3.6x optical Zoom-NIKKOR glass lens than its very reasonable price would suggest.
For the shooter who enjoys taking photos at an affordable price, the NikonCOOLPIX L24 is the ideal compact camera for any situation from birthday parties to the school play. The COOLPIX L24 also affords users the options to record video with sound to capture their memories to share for years.
Pricing and Availability
The S6100 will be available in March 2011, and will retail for $199.95* MSRP in silver, black, red, and violet. The S4100 will be available in late February, and retails for $179.95* MSRP in plum, silver, red and black. The S3100 will be available in late February 2011 and retails for $139.95* MSRP in a choice of colors, including silver, red, blue, purple, pink, yellow, and black. The L24 will be available in late February 2011, and retails for $119.95* MSRP in red, silver, and black,
About Nikon
Nikon, At the Heart of the Image ™. Nikon Inc. is the world leader in digital imaging, precision optics and photo imaging technology and is globally recognized for setting new standards in product design and performance for its award-winning consumer and professional photographic equipment. Nikon Inc. distributes consumer and professional digital SLR cameras, NIKKOR optics, Speedlights and system accessories; Nikon COOLPIX® compact digital cameras; 35mm film SLR cameras; Nikon software products and Nikon sports and recreational optics. For more information, dial (800) NIKON-UX or visit http://www.nikonusa.com, which links all levels of photographers to the Web's most comprehensive photo learning and sharing communities.
*Estimated selling price listed is only an estimate. Actual prices are set by dealers and are subject to change at any time.