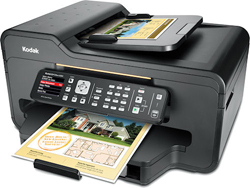 Kodak ESP Office 6150
Trusted Reviews has tested a new All-in-One printer from Kodak called Kodak ESP Office 6150. This printer is supposed to be able to print up to 32 pages per minute in monochrome.
Some key features for the Kodak ESP Office 6150:
-Able to print, copy, scan and fax
-Wireless connectivity
-Print speeds up to 32 ppm in black and 30 ppm in color
-Copy speeds up to 27cpm in black and 26 cpm in color
-Paper tray that holds 200 sheets
Trusted Reviews ends up giving the Kodak ESP Office 6150 an overall score of 7 out of 10 points. The printer scores highest on print quality and features, scoring a bit lower on value and lowest on print speeds. The reviewer find the print costs for the 6150 to be pretty low, but the print speeds are quite slow especially while printing wireless.
Read the full review of the Kodak ESP Office 6150 All-in-One printer here.