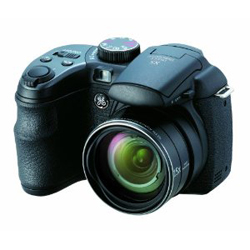 GE X5 Pro Series
About.com has reviewed a digital camera from General Electrics. The camera is called GE X5 and sports a 15x optical zoom lens at a very low price tag.
Some key features for the GE X5 Pro Series:
-14 megapixel image sensor
-15x optical zoom lens (27-405mm)
-2.7″ LCD screen
-Auto brightness
-Able to record videos with 640×480 resolution at 30 fps
-Uses SD/SDHC memory cards
About.com ends up giving the X5 a pretty poor review with a rating of 2 out of 5 possible stars. On the positive side we find the GE camera to have a low price when you look at what kind of zoom range you get. You can also get good pictures if there are good conditions, but there are quite a bit of negative sides like the image quality being very inconsistent, shutter lag, the AA-batteries makes the camera heavy and the flash does not pop-up automatically.
Read the full review of the GE X5 Pro Series digital camera here.