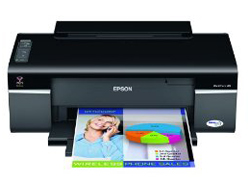 Epson WorkForce 40
Printer Comparison has tested the Epson WorkForce 40 wireless color printer. This Epson printer feature both wireless and ethernet connectivity in addition to being able to print 38 pages per minute in draft mode (or so Epson claims).
Some key features for the Epson WorkForce 40 printer:
-Print speeds up to 38ppm in draft mode
-Individual cartridge system
-Manual duplexing
-Wireless and ethernet connectivity
-Compact design
Printer Comparison ends up giving the Epson WorkForce 40 an average review as the printer has nice features, but it feels a bit cheap (and so is the price tag). On the positive side we find a lightweight and compact design, it is easy to use and has some good features. On the negative side we find that the printer has pretty poor build quality and has paper jams. For a few more dollars one might invest in a more expensive printer with better features and build quality.
Read the full review of the Epson WorkForce 40 wireless printer here.