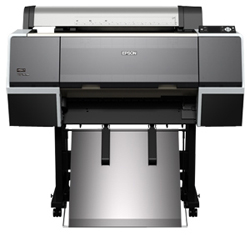 Epson Stylus Pro 7700
Epson has announced two new large format printers called Epson Stylus Pro 7700 and 9700. They will cost about $2,995 and $4,995 in the US and about £2,395 and £4,795 in the UK.

Press release:
Epson America Introduces Epson Stylus Pro 7700 and 9700 Printers, Partners with Ricoh Americas Corporation in Exclusive Agreement
LONG BEACH, Calif., and WEST CALDWELL, N.J., – March 2, 2010 – Epson America, Inc. is introducing a new line of Epson Stylus® Pro printers that will further expand the company's industry-leading printing technology to a new and broader range of professional imaging markets. The Epson Stylus Pro 7700 and 9700 printers are specially engineered to exceed the expectations of CAD, GIS mapping, and corporate graphics professionals for applications such as high-resolution architectural plans, highly-precise engineering drawings, extremely detailed photographic GIS mapping, brilliant indoor signage, and more.
Epson America is also announcing it has joined forces with Ricoh Americas Corporation to sell these printers exclusively in North America. The combination of Epson's latest advancements in commercial printing technology with Ricoh's outstanding reputation and expertise in these markets will enable both companies to elevate the overall quality and range of product offerings in these markets that will be beneficial to customers in more ways than ever before.
"The Epson Stylus Pro 7700 and 9700 offer unprecedented accuracy, speed, precision, and extreme quality that has never been available to the CAD, GIS and corporate graphics markets," said Reed Hecht, product manager, Epson America. "The advancements our engineers have made with our technology in conjunction with the exciting agreement we've entered with Ricoh Americas Corporation will really make this a win-win for the industry and especially for our customers."
"This new line builds on the strength of Ricoh's exceptional wide format LED products and will provide choices that support a variety of customers," said Michael Hunter, director, product marketing, Ricoh Americas Corporation. "We value the high quality of Epson products and believe by adding these printers to our product portfolio, we are providing solutions that exceed what is currently available on the market."
The Epson Stylus Pro 7700 (24-inch) and Epson Stylus Pro 9700 (44-inch) incorporate the company's latest achievements in high-performance ink jet printing. The extreme precision, speed and image quality achieved by MicroPiezo® TFP™ print heads and the benefits of Epson UltraChrome® Vivid Magenta Inks position these printers to deliver a level of printing technology unprecedented within the engineering scientific and display signage markets.
Epson's advanced MicroPiezo TFP print head is capable of producing extremely precise text and line-art, along with brilliant photographic quality prints, at speeds almost twice as fast as the previous generation. This advanced print head combined with a four-color Epson UltraChrome Vivid Magenta pigment-based ink with dual black technology produces prints with brilliant color, accuracy, and true archival capability. Line-art precision and overall image quality and color accuracy are further elevated through the advancements of AccuPhoto™ HD screening technology.
The Epson Stylus Pro 7700 and 9700 are currently available at a suggested retail price of $2,995 and $4,995, respectively.
About Epson America, Inc.
Epson America, Inc. is a leading provider of an extensive range of printers, 3LCD projectors, scanners and point-of-service printers that are renowned for their high quality, functionality, innovation and energy efficiency. Epson America is a U.S. affiliate of Seiko Epson Corporation, which employs more than 70,000 people in 106 companies around the world. Seiko Epson is committed to its ongoing contributions to the global environment and for the second year in a row has been named to the Dow Jones Sustainability World Index, an indicator for leading companies in economic, environmental and social criteria. For additional information on Epson printers, visit http://www.proimaging.epson.com.