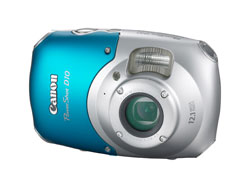 Canon PowerShot D10
Dpreview has tested five different compact cameras that are waterproof and can be used under water. The cameras tested are Canon PowerShot D10, Fuji FinePix Z33WP, Olympus Stylus Tough 8000 (known as mju Tough 8000 in Europe), Olympus Stylus Tough 6000 (known as mju Tough 6000 in Europe) and Pentax Optio W60.
As image quality is really the most important factor when it comes to cameras Dpreview think that the Canon PowerShot D10 and Pentax Optio W60 are the best choices.
The Canon PowerShot D10 even gets a highly recommended rating from Dpreview as the camera produces the best pictures and has the best features.
Read the full test of waterproof cameras here.