Sony NEX-7 compact system camera test / review by Photography Blog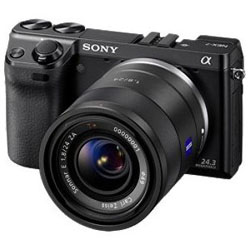 Sony NEX-7
Photography Blog has reviewed the high end system camera from Sony called Sony NEX-7. The NEX-7 has some very impressive specifications including over 23 megapixels, a tilting LCD screen and an OLED viewfinder.
Some key features for the Sony NEX-7 camera:
-24.3 megapixel image sensor
-3″ tilting LCD screen
-XGA OLED electronic viewfinder
-Up to 10 fps shooting
-ISO sensitivity from 100 to 16000
Photography Blog ends up giving the NEX-7 a very good review with a perfect overall score, 5 out of 5 possible stars. The Sony camera scores highest on image quality, design and features, while it scores a little lower on ease of use and value for your money. If you got the money and are looking for a high-end system camera, the NEX-7 from Sony seems to be a clear choice.
Read the full review of the Sony NEX-7 compact system camera here.