Sony annonces new high end flash unit – Sony HVL-F58AM flash unit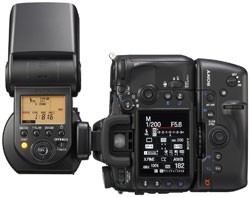 Sony HVL-F58AM flash unit
Sony has announced a new flagship flash unit, the Sony HVL-F58AM, that will be released in June, 2008. The Sony HVL-F58AM flash unit got a new Quick Shift Bounce system. The flash is able to move 90 degrees left and right on a horizontal axis in addition to the usual up and down movement. The HVL-F58AM flash unit is compatible with all current DSLR camera from Sony and will also be compatible with the new fullframe DSLR camera that Sony will release later this year.

Press release:
SAN DIEGO, Jun. 19, 2008 – Sony is expanding its a (alpha) system of accessories to include the new HVL-F58AM flash unit with exceptional features for versatile and flexible external lighting control.
Quick Shift Bounce and Expanded Versatility
This new flash features a new and innovative Quick Shift Bounce system. It offers more creative ways to achieve lighting, flash and bounce angles you may not have been able to experience before.
The flash head can pivot 90 degrees left and right on a horizontal axis in addition to the conventional up and down vertical adjustment. With this system, the camera and flash unit can keep the same orientation regardless of portrait or landscape shooting. This gives a higher degree of flexibility when arranging the direction of light.
For example, you can take full advantage of the flash unit's built-in bounce card even during portrait shots since the flash head can maintain the same orientation as it would in the landscape position.
Enhanced Operability and Ease-of-Use
A powerful performer, the HVL-F58AM flash unit features a maximum guide number of 58 at 105mm and ISO 100. It recycles (or recharges) in as little as five seconds, approximately 55% faster than the predecessor HVL-F56AM model, so you are ready to capture the next shot. And because it features a quiet recycle charge, there's no whine to distract you from your subject.
It also has a large, easy-to-read LCD screen that is about 13% larger than its predecessor's. Its intuitive control layout makes it easy to control flash functions and configure the settings based on your shooting needs.
Wireless Auto Flash Control
This new flash has wireless auto flash control so you can remove the flash unit from the camera and easily light subjects from different angles. Photographers can create soft shadows to add depth to their images and avoid the strong shadows and hot spots that can occur with front lighting. The HVL-F58AM flash unit can also control the ratio of lighting from several off-camera flash units.
Up to three groups of flashes can be set up for optimal, complete control of lighting via a wireless connection. Flash output ratios can be adjusted automatically without having to do tedious exposure calculations. Additionally, you can fire a modeling flash to preview flash effects before taking the picture. Even with multiple units, the modeling flash fires according to the flash ratio you have set.
Advanced Features for Optimal DSLR Performance
One of the flash's most advanced features is its sophisticated zoom control that automatically optimizes illumination angles that are suitable for either APS-C size or 35mm full frame sensors. This control reduces light "fall-off" at the periphery of images.
It also has an advanced white balance compensation system that gathers color temperature information, complimenting the white balance information reading of the camera. This achieves more accurate results when the main unit is in auto white balance mode.
Other features include: high-speed synchronization at shutter speeds of up to 1/4000 of a second, ADI flash metering, manual flash and zoom (six levels), multiple-flash, and a supplied mini-stand for greater wireless freedom.
Price and Availability
The HVL-F58AM flash unit will ship in September for about $500 at sonystyle.com, Sony Style® retail stores (www.sonystyle.com/retail), military base exchanges, and authorized dealers nationwide. Pre-orders begin online on Jun. 20 at www.sonystyle.com.