Ricoh CX2 test / review by Photography Blog – compact digital camera with 5fps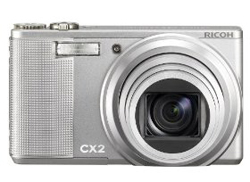 Ricoh CX2
Photography Blog has reviewed a compact superzoom camera from Ricoh called Ricoh CX2. In addition to having 10.x zoom the camera is also capable of shooting at 5fps at full resolution. Pretty impressive!
Some key features for the Ricoh CX2:
-9 megapixel image sensor
-5fps at full resolution
-10.7x optical zoom lens (28-300mm)
-3″ LCD screen
-Compact body only 29.4mm thick
Photography Blog ends up giving the Ricoh CX2 a "Highly Recommended" 4.5 out of 5 points score. The reviewer like that you get such a long zoom range in a compact body. The CX2 is also capable of producing pictures with improved dynamic range with its DR-mode and image quality overall has been improved compared to the CX1. The only downside is no HD-video and if you are a CX1 owner you might feel a bit left out since Ricoh upgraded the CX-series so fast.
Read the full review of the Ricoh CX2 camera here.