Panasonic Lumix DMC-FZ100 ultrazoom digital camera with 24x zoom test / review by CNET UK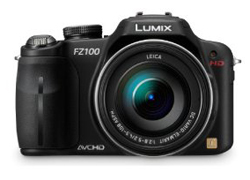 Panasonic Lumix DMC-FZ100
CNET UK has reviewed one of the newest compact digital cameras from Panasonic. This time they have got their hands on an ultrazoom camera called Panasonic Lumix DMC-FZ100 thats sports an impressive wide angle lens that also can reach a massive 600mm.
Some key features for the Panasonic Lumix DMC-FZ100:
-14.1 megapixel image sensor
-24x optical zoom lens (25-600mm)
-Optical image stabilization
-3″ flip-out LCD screen
-Records 1080i HD movies in AVCHD format
-Intelligent Auto (iA) mode
-Uses SD, SDHC and SDXC memory cards
CNET UK ends up giving the FZ100 a good review with an overall score of 4 out of 5 possible stars. The reviewer finds that the Panasonic camera have a very usable zoom range, the image stabilization works extremely good, you get some manual controls in the video mode and you get full manual controls while taking pictures. The only downsides that CNET find worth noting is that there is some noise over ISO 400 and the electronic viewfinder could be better. Overall the Panasonic Lumix DMC-FZ100 seems like a very good camera if you are looking for a compact camera with a large zoom range.
Read the full review of the Panasonic Lumix DMC-FZ100 ultrazoom digital camera here.