Olympus SZ-30MR digital camera with multi-recording function test / review by Photography Blog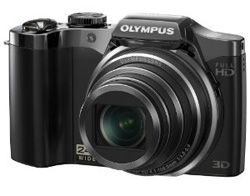 Olympus SZ-30MR
Photography Blog has tested a new digital camera from Olympus. The camera is called Olympus SZ-30MR and comes with a new function called multi-record mode that lets you take still photos while recording video.
Some key features for the Olympus SZ-30MR:
-16 megapixel image sensor
-24x optical zoom lens (25-600mm)
-Image stabilization
-3″ LCD screen
-1080p Full HD movies with stereo sound
-Multi-record (MR) mode
-Magic Filters
Photography Blog ends up giving the SZ-30MR a "Recommended" rating with an overall score of 4 stars out of 5 possible. The Olympus camera scores highest features, a little lower on design and value for your money, and lowest on ease of use and image quality. If you are an amateur photographer that want the multi record function, this might be your choice, but if you are more of an enthusiast you might elsewhere because there is little manual controls and no RAW-format with this Olympus digital camera.
Read the full review of the Olympus SZ-30MR digital camera with multi-recording function here.