Nikon Coolpix S8000 test / review by CNET UK – digital camera with 14 megapixels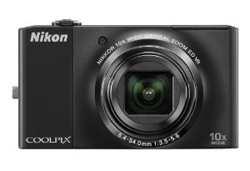 Nikon Coolpix S8000
CNET UK has reviewed the Nikon Coolpix S8000 digital compact camera. This very thin camera from Nikon sports a sensor with 14 megapixels and 10x optical zoom in addition to ability to record HD videos.
Some key features for the Nikon Coolpix S8000 camera:
-14.2 megapixel image sensor
-3″ LCD screen with 921,000 dots resolution
-720p HD video recording
-10x optical zoom lens (30-300 mm)
-Image stabilization
-HDMI output
-32 MB of internal memory
CNET UK ends up giving the Nikon Coolpix S8000 an overall score of 6.2 points out of 10 possible. The major problem with the S8000 is its image quality. It has a massive 14 megapixels but the reviewer find the resolution to be no better than 10 megapixel cameras. The lens quality is also below standard, but there are some positive points like fast autofocus and start up, and the LCD screen is excellent. Let us hope Nikon will try harder with their next line of compact cameras.
Read the full review of the Nikon Coolpix S8000 digital camera here.