Nikon Coolpix S1000pj test / review by CNET UK – digital camera with integrated projector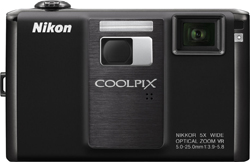 Nikon Coolpix S1000pj
CNET UK is one of the first to review the Nikon Coolpix S1000pj digital camera. This Nikon camera is really unique since it has an integrated projector inside the camera house. It will be interesting to see how the projector works in practice.
Some key features for the Nikon Coolpix S1000pj:
-12.1 megapixel sensor
-5x optical zoom lens (28-140mm)
-optical image stabilization
-projector with VGA resolution (maximum 2 meters)
-2.7″ LCD screen
CNET UK ends up giving the Nikon Coolpix S1000pj a "Very Good" 7.8 score. The projector feature is a very good idea, but it is pretty weak. The camera itself is also not all that good and the camera is pretty expensive. If you are into new cool features the Coolpix S1000pj should be a camera to consider. I hope Nikon makes some improvements for the next camera with a built-in projector.
Read the full review of the Nikon Coolpix S1000pj camera here.