Casio Exilim EX-ZR10 with 1080p high-definition video capture – test / review by CNET UK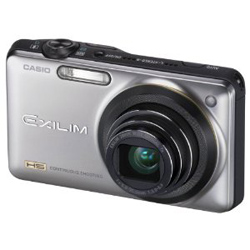 Casio Exilim EX-ZR10
CNET UK has reviewed a compact camera from Casio called Casio Exilim EX-ZR10. The digital camera is able to record movies in 1080p high-definition video and has a pretty long zoom range starting at 28mm.
Some key features for the Casio Exilim EX-ZR10:
-12.1 megapixel image sensor
-7x optical zoom lens (28-196mm)
-3″ LCD screen
-1080p high-definition video capture
-HDR function
-HDMI connection
-Available in black, silver and pink
CNET UK ends up giving the Exilim EX-ZR10 an overall score of 4 out of 5 possible stars. On the positive side the reviewer finds the zoom range to be useful, the HD movie capture and the camera is easy to use. There are a few negative points including boring design, high price tag and skin tones can look a bit weird. If you need this kind of zoom range and high end video, this might be your camera of choice if you have the money to spare.
Read the full review of the Casio Exilim EX-ZR10 digital camera here.