Canon PowerShot SX30 IS test / review by Photography Blog – compact camera with 35x zoom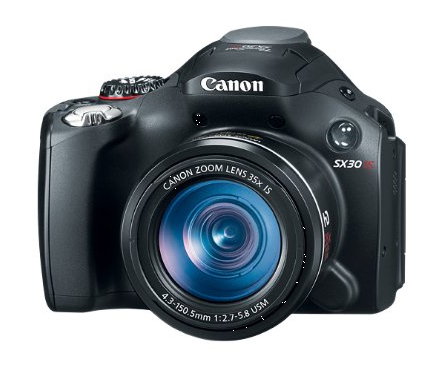 Canon PowerShot SX30 IS
Photography Blog has reviewed a new superzoom camera from Canon. The Canon camera is called Canon PowerShot SX30 IS and has an impressive 35x zoom lens which makes it class leader at the moment when it comes to zoom range. Other features are over 14 megapixels and a flip out LCD screen combined with the ability to record HD video.
Some key features for the Canon PowerShot SX30 IS:
-35x optical zoom lens (24-840mm)
-14.1 megapixel image sensor
-Optical image stabilization
-2.7″ flip out LCD screen
-ISO sensitivity from 80 to 1600
-720p HD video
-Ultrasonic zoom-motor
Photography Blog ends up giving the Canon PowerShot SX30 IS a "Recommended" rating with an overall score of 4 out of 5 possible stars. The Canon compact scores highest on features where it gets a perfect score, a little lower on design and ease of use while the SX30 scores lowest on image quality and value for your money. If you are looking for a camera with extreme zoom this Canon might be your choice, but there are a few shortcomings like not the best image quality in low light and the PowerShot has a hefty price tag. Other than those issues the camera seems to be of high quality.
Read the full review of the Canon PowerShot SX30 IS superzoom camera here.