Canon Digital IXUS 110 IS / Canon PowerShot SD960 IS review / test by Lets Go Digital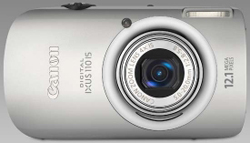 Canon Digital IXUS 110 IS
Lets Go Digital has reviewed the Canon Digital IXUS 110 IS compact digital camera (also known as Canon PowerShot SD960 IS in some markets). This IXUS camera feature 12 megapixels and 4x wide angle zoom.
Some key features for the Canon Digital IXUS 110 IS:
-12 megapixel image sensor
-4x optical zoom lens (28-112mm)
-Optical image stabilization
-720p HD video
-2.8″ LCD screen
-HDMI connector
Lets Go Digital ends up giving the Canon Digital IXUS 110 IS a "Recommended" 77 % rating. The camera is able to take pretty good pictures, but at higher ISO values the quality goes a bit downhill and there is some chromatic aberration. The IXUS 110 IS is a good choice for the every day photographer, but you might want to look at another camera if you are a more serious photographer.
Read the full review of the Canon Digital IXUS 110 IS / Canon PowerShot SD960 IS camera here.