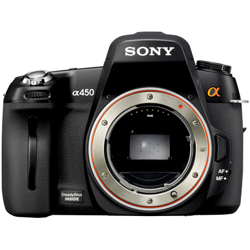 Sony Alpha A450 DSLR
Photography Blog has reviewed one of the many DSLR cameras from Sony. This mid-range DSLR called Sony Alpha A450 contains a 14.2 megapixel sensor and is able to take pictures up to ISO 12800.
Some key features for the Sony Alpha A450:
-14.2 megapixel CMOS image sensor
-2.7″ LCD screen
-ISO sensitivity from 200 to 12800
-Auto HDR mode
-7 FPS
-Live View
-9-point autofocus sensor system
Photography Blog ends up giving the Sony Alpha A450 a "Recommended" rating with an overall score of 4 out of 5 stars. The Sony DSLR scores highest on image quality and design, a little lower on ease of use and value for your money and scoring lowest on features. The camera from Sony seems to be able to take very good pictures, but it has some shortcomings like small viewfinder, no video mode and you do not really get many features when you look on the price tag. It can be confusing to understand the DSLR camera line-up from Sony and one got to wonder why they have produced this camera when they have so many other DSLR choices.
Read the full review of the Sony Alpha A450 DSLR camera here.