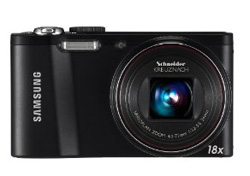 Samsung WB700
Photography Blog has tested a digital camera from Samsung that a nice zoom range starting at 24mm and ending at 432mm. The camera is called Samsung WB700 and also comes with 14 megapixels which should be plenty for most photographers.
Some key features for the Samsung WB700:
-14 megapixel image sensor
-18x optical zoom lens (24-432mm)
-Dual image stabilisation
-3″ LCD screen
-720p HD video recording
-HDMI port
Photography Blog ends up giving the WB700 a "Highly Recommended" rating with an overall score of 4.5 stars out of 5 possible. The Samsung camera scores highest on value for your money where it gets a perfect score, a little lower on features, while it scores lowest on image quality, design and ease of use. This digital camera from Samsung is great, especially if you look at what you get with such a low price tag.
Read the full review of the Samsung WB700 digital camera here.