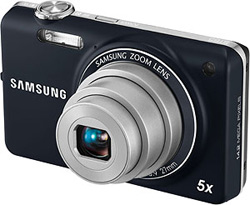 Samsung ST65
Samsung has announced three new compact digital cameras called Samsung ST95, ST90 and ST65. The compact cameras all feature a stylish and slim design in addition to a 5x optical zoom lens. The Samsung ST65 and ST90 contains 14 megapixels while the ST 95 packs a bit more with 16 megapixels.
All three Samsung cameras will be available in February 2011 and cost about $199.99, $149.99 and $129.99.

Press release:
Samsung Delivers Stylish Design and Enhanced Performance Through the New ST95, ST90 and ST65
Slim-line design and high-quality performance for those passionate about photography
SEOUL, Korea – January 19, 2011 – Samsung Electronics Co., Ltd, a global leader in digital media and digital convergence technologies, announced today the ST95, ST90 and ST65, the latest additions to its ultra-slim, stylish design range, delivering the perfect balance between style and functionality. The latest launches reinforce Samsung's ambition to produce high performing, fashionable and portable models for all customers, which still maintain a premium and high quality feature set to guarantee great images.
The ST95, ST90 and ST65 boast impressive performance features within their ultra-slim line design. With each device measuring 16.5mm (ST90) or 17mm (ST95 and ST65), the new cameras ensure users have the most sleek and stylish compact cameras on the market to match their personal style. The compact design of each model has been specifically developed to improve the overall usability and function of the cameras. The ST95, ST90 and ST65 also offer a variety of fashion leading color options. All three cameras can effortlessly slip into any jacket pocket for added portability, so it's ready to go whenever you need to capture that perfect picture.
The compact models incorporate leading features to maximize performance in any situation, delivering high image quality. These features include a 26mm wide lens on the ST95 and ST90, and a 27mm wide lens on the ST65 plus a 5x optical zoom lens, to ensure users can capture every detail within the frame while delivering a deeper image perspective. The camera range also boasts 16 megapixels for the ST95 and 14 megapixels for the ST90 and ST65, delivering sharp, crisp and highly detailed photographs in any environment. Whether the user wants to capture the perfect shot of friends or the latest scenic setting from their hotel window, the intelligent Smart Auto system chooses from 16 different landscape and portrait modes (15 modes on the ST65) to automatically select the appropriate settings allowing you to capture the perfect image.
"Today's launch reinforces Samsung's ability to balance our consumers' needs for style and design while still maintaining high performing innovative features," said Mr. Hyunho Chung, Executive Vice President and Head of the Digital Imaging Business, Samsung Electronics. "We know that our customers are passionate about compact and sleek design and following the global success of the ST60 and ST70, we have upgraded and streamlined the optical performance within the slim-line outer body to meet these demanding requirements. The design has been carefully considered to ensure it meets the requirements and usability needs of our customers for the best camera experience."
HD Movie Recording with enhanced Smart Touch 3.0 User Interface for advanced capturing
All three cameras include 720p HD Movie recording, and the ST95 also supports H.264 codec, providing up to 2-4 times longer recording capabilities compared to conventional models with MPEG-4 OR MJPEG. Capturing high quality video to share and enjoy with friends is a must-have function, and the latest ST range makes sure people can effortlessly capture and create through the HD shooting and HD playback movie functions. The ST95 also reaches new levels of interaction with the consumer, through newly developed Smart Touch 3.0 User Interface which works on the 3.0" wide multi-purpose LCD touch screen, so users can quickly access, manage and use key features like they would on a modern day Smart phone.
Smart Feature Technology for intuitive and easy to use capturing
To reach the high-performing standards required by today's passionate camera users, the ST range also boasts Smart Filter and Smart Album functions. The Smart Filter delivers a high-performing artistic edge to both still shots and videos through the miniaturizing effect, compositional contrast with a Vignetting filter and the Fish-eye setting to provide a cool, unique and stylized finish. For all those photos of friends, birthday parties and celebrations with loved ones, the Smart Album automatically organizes photos by type, date and even by face recognition, so you can always find your best friend amongst your favorite photos for added ease of use.
ST95 / ST90 / ST65
Image Sensor
16M 1/2.3" / 14M 1/2.3" / 14M 1/2.3"
Lens
26mm Wide 5X Zoom Lens / 26mm Wide 5X Zoom Lens / 27mm Wide 5XZoom Lens
Dimensions
91.9X53.1X17.0mm / 91.8×53.8×16.5mm / 92.4×55.6×17.0mm
Additional features – ST95
3.0" W TSP with Smart Touch 3.0
Smart Auto 2.0
Smart Filter 2.0
HD Movie(H.264)
Built-in PC S/W
Additional features – ST90
Smart Auto 2.0
Smart Button
Smart Filter 2.0
HD Movie
Built-in PC S/W
Additional features – ST65
High Sensitivity 3200
Smart Auto
Smart Filter
Smart Album
HD Movie
Price
$199.99 / $149.99 / $129.99
Availability
February