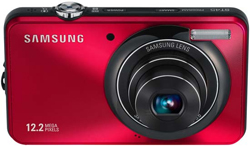 Samsung ST45
Samsung announced a new compact digital camera called Samsung ST45. The design of the ST45 is very slim with its 16mm thickness. It also feature 12 megapixels and ISO sensitivity up to 3200, but the press release does not say what kind of zoom range it has.
Some key features for the Samsung ST45:
-Ultra slim design: 16mm thick
-12 megapixel sensor
-2.7″ LCD screen
-Digital image stabilization
-Smart Scene Recognition
-ISO sensitivity up to 3200
The Samsung ST45 will be available late in September 2009 in red, black, blue and grey designs.

Press release:
Samsung Announces Ultra Slim and Ultra Light Digital Compact Camera
9:00am BST 3rd September 2009 – Samsung, leaders in innovation and digital imaging, is pleased to announce the launch of the 16mm ultra slim ST45. The aluminium ST45 combines innovative technology and user-friendly features to deliver optimum image quality in a light and stylish package.
Smart Auto – Scene Recognition
The 12 mega pixel ST45 features a 2.7" QVGA (230K) TFT LCD screen and Samsung's new "Smart Scene Recognition" technology. "Smart Scene Recognition" has 11 optimized picture pre-settings such as Portrait, Night portrait, Macro, Macro Colour, helping people take the perfect shot regardless of the conditions. You can also use these settings when sorting through your photos – making it quick and easy to find all the portrait, outdoor or macro images you've taken.
Digital Image Stabilisation/Self Portrait & Frame Guide
The ST45 offers Digital Image Stabilisation helping you get great sharp images without blurring. A highly sensitive ISO 3200 and Samsung's Self Portrait & Frame Guide are included within the ultra slim and light ST45 alongside a host of other advanced features. The Frame Guide means you no longer need to rely on the technological capabilities of strangers for those perfect holiday snaps. When you use the setting, the camera takes a ghost picture of your desired shot and displays a template when you pass the camera over to someone else – ensuring they always take the picture you want them to take once you're in it.
Face Detection
"Face Detection" locates the subject's face within the frame and automatically adjusts auto focus and auto exposure to ensure better composition and image quality for portraits; in "Blink Detection Mode" the camera will take a series of shots when closed eyes are detected so everyone is captured with their eyes open; in "Smile Mode" a picture is automatically taken when smiles are detected and, in "Beauty Shot" mode, facial skin is retouched for a brighter and smoother skin tone.
Smart Album – Digital Contents Management
The ST45 features a new "Smart Album" Digital Contents Management system; a contents management program within the camera itself that significantly reduces the time it takes to find a photo – so it's quick and easy to store and manage your picture collection. The clever navigation program automatically organises your shots based on the date they were taken, their contents, colour or themes.
"Samsung is delighted to strengthen its range of compact cameras with the launch of the sophisticated ST45. Our cameras set the benchmark for quality and innovation and with the launch of the ST45 all photographers will enjoy taking high quality images" said Steve Mitchell, General Manager Marketing, Samsung Digital Imaging Division.
The ST45 is available in Red, Black, Blue and Grey. All colours will be available from leading high street and online retailers from late September 2009. Samsung Cameras include a one year warranty. Customers requiring further information should call 0845 726 7864 or visit samsungcamera.co.uk
About Samsung Digital Imaging
Samsung Digital Imaging is a leading-edge expert in delivering high-end digital cameras and camcorders for today's and future generations of photographers and videographers by merging technical innovation with superior design. Samsung's global brand image has been enhanced tremendously in recent years – it is believed to be in the top 20 of the world's most powerful brands, and is recognised as the fourth fastest-growing brand in the world, according to Interbrand.