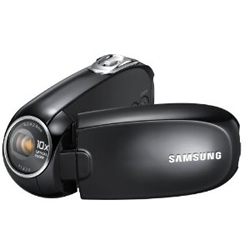 Samsung SMX-C20
Digital Camera Review has tested a regular camcorder from Samsung. The camcorder is called Samsung SMX-C20 (the Samsung SMX-C24 is also mentioned in the review as it essentially is the same camcorder) and has a special lens that is positioned at an angle making it more natural to film.
Some key features for the Samsung SMX-C20:
-10x optical zoom lens
-2.7″ LCD screen
-2.5 Hours Battery Recording
-25 degree active angle lens
-Uses SD or SDHC memory cards
Digital Camera Review ends up giving the Samsung SMX-C20 an overall score of 3 out of 5 possible stars. On the positive side we find ergonomic handling and the time lapse feature. On the negative side there are points such as that you do not have HD video, the buttons feel cheap and no external audio jack. The Samsung camcorder scores highest on features, design and ease of use, scoring a little lower on performance and scoring lowest on image quality and video quality. Overall this seems like a good camcorder, but it is worth looking at HD camcorders which seems to be taking over the camcorder market.
Read the full review of the Samsung SMX-C20 camcorder here.