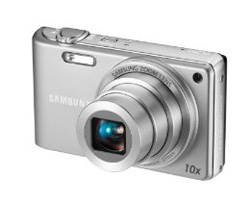 Samsung PL210
Photography Blog has tested an affordable zoom camera from Samsung. The camera is called Samsung PL210 and packs 10x optical zoom in camera body that is pretty thin. Let us hear what the reviewer thinks about this Samsung digital camera.
Some key features for the Samsung PL210:
-14.2 megapixel image sensor
-10x optical zoom lens (27-270mm)
-3″ LCD screen
-Dual image stabilization
-Face recognition
-Available in silver, black, blue and pink
Photography Blog ends up giving the PL210 a "Recommended" rating with an overall score of 4 out of 5 possible stars. The Samsung camera scores highest on value for your money, a little lower on features and ease of use, while it scores lowest on image quality and design. If you look at the price tag you get a lot of camera for your money, but do not expect the best image quality in the world or you will be a bit disappointed as there are some noise at higher ISO levels.
Read the full review of the Samsung PL210 affordable zoom camera here.