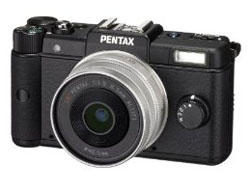 Pentax Q
CNET UK has tested the smallest interchangeable lens camera on that is currently on the market. The manufacturer of this camera is Pentax and the camera itself is called Pentax Q.
Some key features for the Pentax Q:
-12.4-megapixel CMOS sensor
-Interchangeable lens system
-3″ LCD screen
-1080P high-definition video at 30 fps
-HDR capture
-Bokeh control
CNET UK ends up giving the Pentax Q an overall score of 3 out of 5 possible stars. The reviewer really like the compact size of the camera and the pictures it produces has good colors. But there are some point keeping the Pentax camera from getting a top score including pretty high price tag and while shooting video you can not change focal length. The Pentax Q seems like a nice camera, but at that price you might want to look at cameras with larger sensors.
Read the full review of the Pentax Q compact camera with interchangeable lens system here.