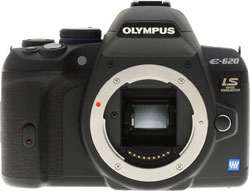 Olympus E-620
Digital Camera Review has tested the new entry level DSLR camera from Olympus, the Olympus E-620. As I am an owner of the older Olympus E-500 it is interesting to see how this new Olympus camera is able to hold up.
Some key features for the Olympus E-620:
-12.3 megapixel sensor
-2.7″ tilt screen
-ISO levels from 100 to 3200
-image stabilization in the camera body
-pentaprism viewfinder with 0.96x magnification
-art filters
-7-point auto focus system with 5 cross-type points
Digital Camera Review ends up giving the Olympus E-620 a good review as you get a lot of the Olympus E-30 features for a lower price. The camera is able to take good pictures and contains a ton of good features. The kit lenses are also of very high quality. The only downside is a bit off and on auto focus, some noise at higher ISO levels and Live View could be better.
Overall the Olympus E-620 seems like a worthy camera for people interested in shooting with Olympus cameras.
Read the full review of the Olympus E-620 camera here.