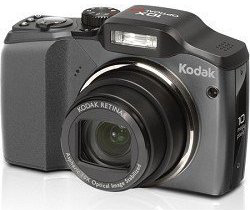 Kodak EasyShare Z915
Digital Camera Review has tested the Kodak EasyShare Z915 compact digital camera. This Kodak camera contains 10 megapixels and 10x optical zoom in a camera body that resemble a small DSLR.
Some key features for the Kodak EasyShare Z915:
-10 megapixel image sensor
-10x optical zoom lens (35-350mm)
-Image stabilization
-2.5″ LCD screen
-Video mode: 640×480 at 30fps
-ISO sensitivity 100-1600
Digital Camera Review gives the Kodak EasyShare Z915 a good review, but it does not really stand out from other superzoom cameras in the same class. The Z915 scores good on design, noise control and value, but the lens could have been better, autofoucs faster and the small LCD screen isn't all that good. Overall the EasyShare Z915 is a nice superzoom camera that probably will sell quite a lot.
Read the full review of the Kodak EasyShare Z915 camera here.