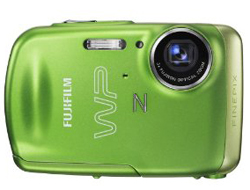 Fujifilm FinePix Z33WP
PC Mag has reviewed a waterproof camera from Fujifilm. The camera is called Fujifilm FinePix Z33WP and is able to take pictures down to depths at 3 meters for two hours. Let us hear what the reviewer thinks about this cheap Fujifilm camera.
Some key features for the Fujifilm FinePix Z33WP:
-Waterproof down to 3 meters for two hours
-10 megapixel image sensor
-3x optical zoom lens
-2.7″ LCD screen
-50 MB built-in memory
-Uses SD and SDHC memory cards
PC Mag ends up giving the Fujifilm FinePix Z33WP a pretty poor review with an overall score of 2 out of 5 possible stars and a "Fair" rating. On the positive side we find the camera to be the cheapest underwater camera and yeah it is positive that it is able to take pictures under water. On the negative side we find aspects with the Fujifilm camera such as poor image quality, no optical image stabilization and the LCD can be hard to see when it is sunny. If you are looking for an underwater digital camera it might be worth shelling out some extra money so you can actually get good pictures.
Read the full review of the Fujifilm FinePix Z33WP digital camera here.