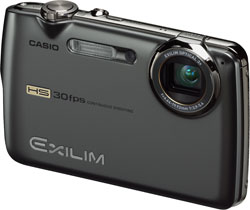 Casio EXILIM EX-FS10
Photography Blog has reviewed the Casio EX-FS10 compact digital camera. This super slim camera from Casio features a busrt shooting mode at 30 fps and video mode at an incredible 1000fps.
Some key features for the Casio EXILIM EX-FS10:
-Burst shooting at 30fps
-Video mode at 1000fps
-9.1 megapixel sensor
-3x optical zoom (38 – 114mm)
-2.5″ LCD screen
-97.0 x 81.0 x 16.0mm dimensions
Photography Blog ends up giving the Casio EX-FS10 camera a "Recommended 4 out 5 stars" rating. The camera is able to take good pictures at low ISO levels and the burst mode and video mode is very good. The only downsides are a bit limited zoom range and the battery life is short.
Read the full review of the Casio EX-FS10 digital camera here.