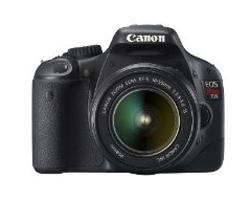 Canon EOS Rebel T2i / Canon EOS 550D
CNET UK has tested the Canon EOS Rebel T2i (also known as Canon EOS 550D) DSLR camera. This entry level DSLR from Canon can sport an impressive 18 megapixels, a large LCD screen and ability to record HD movies. It is interesting to see what the quality is on pictures produced from such a massive sensor.
Some key features for the Canon EOS Rebel T2i / Canon EOS 550D:
-18 megapixel image sensor
-3″ LCD screen
-ISO sensitivity 100-12800
-Records full HD movies, 1920 x 1080
-Supports SDXC memory cards
-Size 129 x 97 x 62 mm
-Weighs 530 g
CNET UK ends up giving the Canon EOS 550D a very good rating with an overall score of 8.8 points out of 10. The reviewer really likes the HD movie mode and ISO performance is excellent. The Canon camera also has a great design and menu system. There are not many negative points with the 550D, but the detail in the pictures could be better and the kit lens is not all that good. It seems like Canon has produced another winner camera with the 550D/Rebel T2i, but quality comes with a bit high price tag.
Read the full review of the Canon EOS Rebel T2i / Canon EOS 550D DSLR camera here.