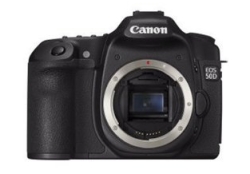 Canon EOS 50D
The well known website dpreview.com has reviewed the latest DSLR camera from Canon, the Canon EOS 50D. There has been quite a fuzz about this camera since the sensor contains a staggering 15 megapixels.
Some key features for the Canon EOS 50D camera:
-15,1 megapixel sensor
-3″ LCD screen with 920,000 dots
-ISO sensitivity 100-3200
-Magnesium body
Dpreview.com ends up giving the Canon EOS 50D a "Highly Recommended (just)" rating. This indicates that the 50D is a very good camera, but there has been some discussion about the "just" rating. Dpreview does not seem too happy about Canon cramming 15 megapixels into the sensor because this makes the pictures more noisy at higher ISO levels.
But this doesn't make the 50D a bad camera. It is able to produce excellent images and is good over all so it should be good choice for the more serious amateur photographer.
Read the full review of the Canon EOS 50D here.