Pentax K-7 review / test by Trusted Reviews – Flagship DSLR from Pentax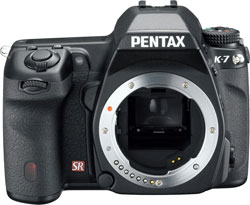 Pentax K-7
Trusted Reviews has reviewed the flagship DSLR model from Pentax, the Pentax K-7 camera. This DSLR looks very exciting with 14.6 megapixels, HD video, environmental sealing and many more features. It will be interesting to see what the reviewer thinks about the K-7.
Some key features for the Pentax K-7:
-14.6 megapixel sensor
-environmental sealing
-720p HD video
-top shutter speed 1/8000 second
-3.0″ 920,000 dot LCD screen
-ISO sensitivity from 100 to 6400
Trusted Reviews ends up giving the Pentax K-7 a "Recommended" 9 out 10 rating as the camera has excellent build quality and list of features. The K-7 actually scores high on all points so it seems like it is a fine DSLR camera so it seems like a fine choice for semi-professional photographers.
You can read the full review of the Pentax K-7 camera here.