Panasonic Lumix DMC-G10 test / review by Photography Blog – the smallest Micro Four Thirds camera with eye level viewfinder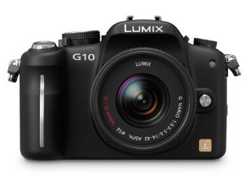 Panasonic Lumix DMC-G10
Photography Blog has reviewed a new Micro Four Thirds digital camera from Panasonic. The camera is called Panasonic Lumix DMC-G10 and is the smallest with an eye level viewfinder.
Some key features for the Panasonic Lumix DMC-G10:
-12.1 megapixel image sensor
-Electronic viewfinder
-720p HD video recording
-3″ LCD screen
-Live View
-ISO sensitivity from 100 to 6400
-Uses SD, SDHC and SDXC memory cards
-Pop-up flash and hot shoe
Photography Blog ends up giving the Panasonic Lumix DMC-G10 a "Recommended" rating with 4 out of 5 stars. The G10 scores highest on image quality and ease of use while scoring a little lower on design, features and value for your hard earned money. The G10 seems like a very good camera that I'm considering buying, but the Samsung NX10 is a strong competitor at a lower price. It will be very interesting to see how the market will react to all the new systems being released.
Read the full review of the Panasonic Lumix DMC-G10 Micro Four Thirds camera here.