Olympus Mju 9010 / Olympus Stylus 9010 test / review by Photography Blog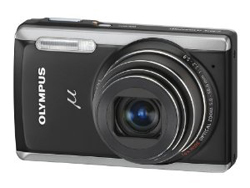 Olympus Mju 9010
Photography has tested the Olympus Mju 9010 (known as Olympus Stylus 9010 in some markets) digital camera. This Olympus camera has 14 megapixels and a nice wide angle zoom lens.
Some key features for the Olympus Mju 9010 / Olympus Stylus 9010:
-14 megapixel image sensor
-10x optical zoom lens (28-280mm)
-2.7″ LCD screen
-2GB internal memory
-Able to record HD movies
-In-camera panorama function
Photography Blog ends up giving the Olympus Mju 9010 / Olympus Stylus 9010 camera a "Recommended" rating with a total score of 4 out of 5 stars. The 9010 scores highest on design and image quality while scoring a little lower on value for your money, features and ease of use. It is a good camera, but I hope Olympus will do an even better job with their future compact cameras like making easier menu systems.
Read the full review of the Olympus Mju 9010 digital camera here.