Kodak EasyShare M580 test / review by CNET UK – digital camera with 8x optical zoom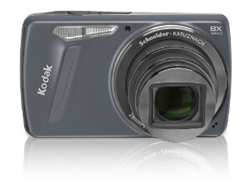 Kodak EasyShare M580
CNET UK has tested a compact camera from Kodak called Kodak EasyShare M580. The Kodak EasyShare M580 has some nice specifications like 14 megapixels and a 8x optical wideangle zoom lens. Let us hear what the reviewer thinks about the Kodak camera.
Some key features for the Kodak EasyShare M580:
-14 megapixel image sensor
-8x optical zoom lens (28-224mm)
-3″ LCD screen
-HD 720p video recording
-Uses SD and SDHC memory cards
CNET UK ends up giving the Kodak EasyShare M580 a not so very good score with an overall rating of 5.7 points out of 10 possible. On the positive side the Kodak camera is able to take pictures with vivid colors and crisp details and the zoom lens is pretty good. On the negative side the reviewer finds an interface that is really bad, there are about non manual controls and the body design feels really cheap. If Kodak had done some more work on the menu system and designed a better body it would probably get a much better score since the pictures from the M580 is pretty good.
Read the full review of the Kodak EasyShare M580 digital camera here.