Fujifilm announces Fujifilm FinePix Z300 – touch screen based controls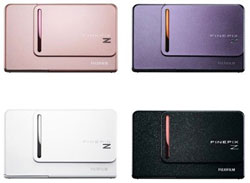 Fujifilm FinePix Z300
Fujifilm has announced a new compact camera called Fujifilm FinePix Z300. The camera is based upon touch screen based controls without any buttons. Other features include 10 megapixels and 5x optical zoom. The Fujifilm FinePix Z300 will be available in black, white, purple and pink designs.
Some key features for the Fujifilm FinePix Z300 digital camera:
-touch screen based controls
-3″ LCD screen
-10 megapixel sensor
-5x optical zoom lens
-ISO sensitivty up to 1600
The Fujifilm FinePix Z300 will be availble in June 2009 in Japan and cost about $400.