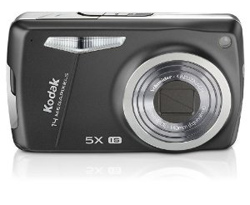 Kodak EasyShare M575
CNET UK has reviewed a digital camera from Kodak called Kodak EasyShare M575. The camera has 14 megapixels and a wide angle zoom lens that starts at 28mm.
Some key features for the Kodak EasyShare M575:
-14 megapixel image sensor
-5x optical zoom lens (28-140mm)
-3″ LCD screen
-Uses SD and SDHC memory cards
CNET UK ends up giving the EasyShare M575 a good review with an overall score of 4 out of 5 possible stars. On the positive side the reviewer finds aspects such as that it has a small and light design, it is easy to use, low price tag and the zoom range is useful. There are a couple of negative points including can not use zoom while filming and there are a few issues with the menu system, but overall the Kodak seems like a good and cheap pocket camera.
Read the full review of the Kodak EasyShare M575 digital camera here.